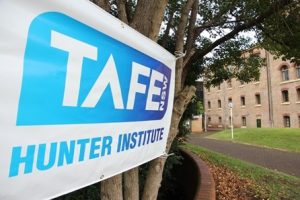 Unions and businesses are pushing for a greater investment in TAFE.(ABC News: Dan Cox)
Unions are in agreement that something needs to change.
The secretary of the Australian Council of Trade Unions, Sally McManus, said, "apprentices are paid appallingly".
"We're not attracting people to do those jobs because they can't live on those wages," she said.
There's a joint push for a significant investment in vocational education and training.
"Investing in TAFE and VET is part of productivity," she said.
"It's part of how you become a more productive country, is investing in people so that they can use skills."
The federal president of the Australian Education Union, Correna Haythorpe, said it is clear that persistent cuts to TAFE have taken a toll.
"We've seen courses close or campuses shut down and TAFE teachers lose their jobs.
"That's had a direct impact on students who wish to undertake vocational education and indeed, has contributed to the skill shortages that Australia is now facing."